Maria João Rodrigues hosted a roundtable organised by the EU Alliance for investing in Children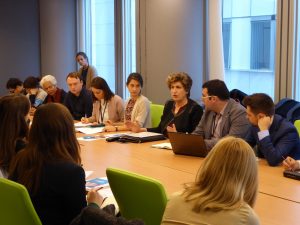 Source: Eurochild
On 6 November, Eurochild together with the EU Alliance for investing in Children organised a Roundtable discussion in the European Parliament on the role of the next EU budget in tackling child poverty and social exclusion. Since November 2017, the Alliance has been calling for the Multi-Annual Financial Framework (MFF) to invest in children and prioritise child poverty reduction, and has developed a common policy statement for the European Social Fund Plus (ESF+) and the Common Provisions Regulations.
The event was hosted by MEP Maria Joao Rodrigues. The three EU institutions were represented, on the side of the Parliament we had MEPs Jean Lambert and Brando Benifei, from the Commission Marie-Anne Paraskevas, senior expert on EU funds, and social policy officials from the Permanent Representations of Finland, the Netherlands and Sweden.
Participants of the meeting agreed that tackling child poverty needs to be high on Member States' political agenda, and relevant sources of EU funding has to support these efforts. Speakers also raised the importance of aligning the European Semester process and funding instruments need to be with the European Pillar of Social Rights, which has a principle dedicated to childcare and children's rights to protection from poverty.
Members of the European Parliament informed about steps taken to include a reference to tackling child poverty in the European Social Fund Plus, in particular through a child guarantee. Eurochild will provide its assessment to the feasibility study requested by the Parliament.
As negotiations on the financial instruments are still ahead, civil society was advised to highlight concerns, both at EU but also importantly at national level to governments who are part of the negotiations on EU resources.